±460 Choice Fertile Creekside & Well-Located Acres – Residential – Ranchette – Development Land Auction
Saturday, September 24, 2022 @ 1:00 pm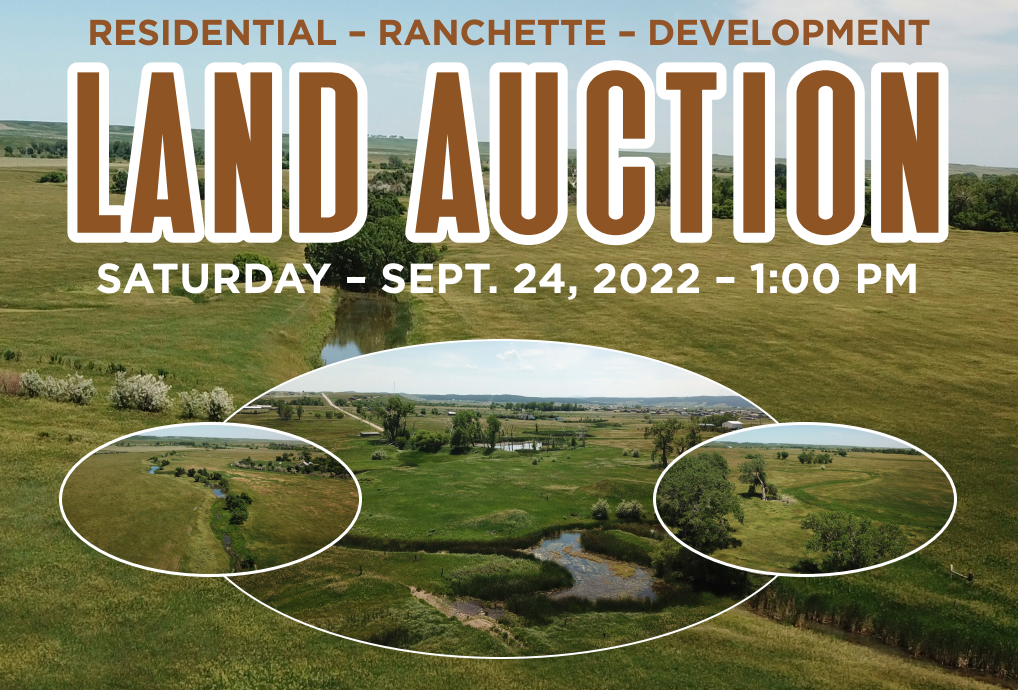 "ELK CREEK LAND CO."
±460 CHOICE FERTILE CREEKSIDE & WELL-LOCATED ACRES
LOCATED JUST NORTH OF ELK CREEK RD 1-1/2 MILES ON N. HAINES AVE. (141st Place) IN MEADE COUNTY, SD BOASTING A HALF MI. OF ELK CREEK FRONTAGE & AN ADDITIONAL 1.4 MI. OF FRONTAGE ON AN UNNAMED SEASONAL TRIBUTARY
RESIDENTIAL – RANCHETTE – DEVELOPMENT
LAND AUCTION
~Live Auction with Internet Bidding Available ~
~ Live Auction held at The Monument (formerly the RPCC), "Lacroix Hall C", 444 Mt. Rushmore Rd., Rapid City, SD ~
OFFERED & SOLD IN (21) TRACTS OF 10 TO 40 ACRES, SEVERAL LARGER UNITS & IN ITS ENTIRETY OF ±460 ACRES
* 200 AC. SELLING ABSOLUTE *
* 260 AC. SELL SUBJECT TO SELLER APPROVAL *
SATURDAY – SEPT. 24, 2022 – 1:00 PM
PROPERTY LOCATION: At Rapid City, SD, take I-90 Exit 58 (Haines Ave.), travel North for 8.5 miles to Elk Creek Road. Continue North on 141st Ave. (N. Haines) 1 mile to the SW corner of the property. To access the east portion, at the intersection of Haines Ave. & Elk Creek Rd., travel 1 mile East on Elk Creek Rd. to 142nd Ave. on the North side. Travel due North 1.8 miles via 142nd Ave./Galaxy Place to the East edge of the auction property located on the west side of Galaxy place. Signs posted. From Piedmont, SD, take I-90 Exit 46 & travel East on paved Elk Creek Rd. for approx. 7.5 mi. until you reach the intersection of Elk Creek Rd. & Haines Ave., then follow the above directions. Note: Meade County has plans to blacktop Elk Creek Road from Haines Ave. eastward to the intersection of Elk Creek Rd. & Elk Vale Rd. north of I-90 in the near future.
Click Here to Register and Bid
This choice property has all of the potential to be the next "Golden Valley", yet also lends itself well to the discerning buyer wishing to have an upscale ranchette property or small affordable acreage with all lying within a very desirable area boasting panoramic views of the Black Hills, Bear Butte and the surrounding countryside. With the advent of our ever-growing population within our beautiful and coveted Black Hills area, many of the choice & unspoiled properties such as this that are located within an easy commuting distance to Rapid City, Ellsworth, Sturgis and other nearby areas are becoming increasingly harder to find at any price! In addition, water-front acreages are nearly nonexistent and are becoming very rare indeed. A very nice mix of heavy to scattered mature trees and shrubbery adorn this property from one end to the other with an obvious heavy growth of mature cottonwoods & hardwoods along Elk Creek flowing through the southeast for one half mile. Two major unnamed watercourses run from the southwest to the northeast and each offer deep pools of water and certainly flow on a seasonal basis on into Elk Creek just off this property coupled with the further addition of several nice stock dams scattered on the property. Near the north-central and the higher elevation portion of this offering can be found untold thousands of tons of gravel deposits which certainly tremendous value and are a positive attribute and these deposits further enhance the desirability of this land tract.
INSPECTION DATES: Sunday, Sept. 11 & Saturday, Sept. 17 from 1:00 PM until 4:00 PM each day, or inspect at your leisure. Approx. corners will be marked for reference and Auctioneer/Broker will be onsite each showing day for questions. On showing dates & times, we urge you to bring either an ATV or Side-by-Side for inspection of the interior of the property as the conditions are dry, and we do not want to endanger anyone due to carelessness in driving onto the property with a conventional vehicle with respect to the fire potential such as it is.
AUCTIONEER'S NOTE: As with any property, Location is the key, and we believe that this prime location nearly adjacent to Golden Valley & other subdivisions is second to none within the marketplace today given the close proximity to the suburban area of Rapid City located just minutes away. With the advent of the influx of personnel slated to man the new B-21 Raider Stealth Bomber wing (https://www.airforce-technology.com/projects/b-21-raider-stealth-bomber-usa/ ) at Ellsworth Air Force Base coming into the area, and the opportunities and jobs that this new venture promises in addition to the already heavy-influx of Americans wishing to call the Black Hills region their home makes this offering of prime development & residential land truly a prime opportunity for both the investors & private sector alike as this land offering certainly has the wide appeal to the smaller parcel purchaser as well as to the larger land developers and investors. We welcome each of you to attend this rare offering of very desirable land that is located within easy driving distance to the ever-popular & fast-growing metropolitan area of Rapid City, which quite frankly, cannot be fully appreciated until one is standing on it and we would venture to bet on the fact that you will be pleasantly surprised of the striking natural beauty of this prairie land offering fantastic panoramic views in all directions. Please take special note that at least 200 acres of this highly-desirable land sells regardless of price on auction day. Further, as noted within the directions to the property, Elk Creek Road is set to be paved in the near future from Haines Ave. on eastward to Elk Vale Road. We urge you to inspect, make financial arrangements early and to be prepared to purchase your piece of this unspoiled and choice land offering.
TERMS & CONDITIONS
Absolute auction on 200 acres of this offering with the remainder of the approx. 260 acres selling subject to seller approval. Offered in (21) individual tracts as outlined herein, (2) individual units and as one entire approx. 459.51 acre unit, selling in the manner realizing the greater return. 15% nonrefundable earnest money day of auction with the balance due in cash or certified funds upon closing. Possible contract for deed if this land is purchased by one buyer in its entirety. Closing to take place on or before November 8, 2022 ((Buyers allowed – 45 FULL DAYS TO CLOSE)). Possession shall not be until the buyer(s) close on the transaction. No exceptions. Taxes, based on the 2021 tax levy, shall be prorated to the day of closing. Property sold by legal description. Information given based upon Meade County records and FSA maps. Soil information is provided by Surety Agri-Data. If sold in tracts, no survey shall be performed. Where needed, access and utility easements shall be placed along the respective exterior lot line of select lots allowing access and utility placement to interior lots. Many of the auction tract corners are approximately marked and should not be confused with an actual land survey. Visual auction maps have been prepared for marketing purposes only, are approximate only and buyers should rely upon their own judgment and inspection of the subject property. To protect the natural beauty of this area as well as to protect the investment of the landowners within, light protective covenants will apply (if sold in tracts), and a home owners association and road district will be established. All information concerning equalization and planning can be found on the Meade County, SD official website at https://www.meadecounty.org/equalizationplanning. We urge each of you to research the existing development and subdivision rules, regulations & options for the same found within. Please note that Tracts 1 & 2 each have water table stipulations imposed limiting private wells and drain fields thereon. Property sells without Buyer contingency of any kind, please have your financial arrangements secured prior to bidding. Title insurance will be provided. A commitment for title insurance showing marketable title will be made available for your inspection at the auction and online. Costs of title insurance and the closing agent fee shall be split equally between the Seller and Buyer. Property will be transferred by Warranty Deed subject to easements, assessments, and reservations of record. The Auctioneers/Brokers are representing the Seller's interests in this transaction. The property will be sold in "As Is" condition without any warranties, either expressed or implied, as to the nature, condition, or description of any improvements and property herein, please inspect to the extent deemed necessary and rely on your own judgment when bidding. All information was derived from sources deemed reliable; however, neither Seller nor Auctioneers/Brokers are making any guaranties or warranties, actual or implied. Any announcements made day of auction supersede any and all previously printed material and any other oral statements made.
Related Auctions